Reclaiming Canada's Resources Since 1946
John Zubick Limited has been serving London and area for more than 70 years. We are proud members of the London community and we are pleased to support many of our local business and social initiatives.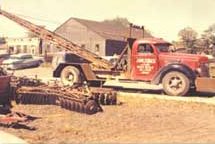 From origins in 1946, our company now has over fifty-five employees and several divisions. We are recognized in our community and in our industry as a long-time leader in environmentally responsible practices. We are deeply committed to stewardship of our planet through recovery and recycling of our earth's resources. For this reason, we are constantly expanding the range of recyclable materials we accept, now including electronics, tires and batteries. We also continuously improve our capabilities to accept and process mixed materials to maximize the value of scrap materials for our customers.
In addition to the services at our Clarke Road yard, we also provide specialized recycling and scrap services onsite for manufacturing facilities and farms.
Zubick's customer-friendly facility is equipped to welcome all vehicles, from large trucks to the family car, with drive-in weighing convenience. Our customer service personnel are ready and look forward to answering your recycling questions.
Milestones Through The Years….
1946 – Company started by John Zubick
1953 – Incorporation of John Zubick Limited
1964 – Clarke Road site was established
1975 – Stationary shear, baler and rotary furnace was installed
1982 – First United aluminum furnace installed
1990 – First mobile shear purchased
1999 – London Rail Services established
2004 – "Welded Wonders" Art Sculptures in the yard begins
2007 – Remote control SENNEBOGEN material handler to feed the shear
2008 – Vezzani 1,000-ton gravity-feed press shear installed
2012 – eZcycle electronic waste processing launched
2013 – Bonafiglioli car shredder installed